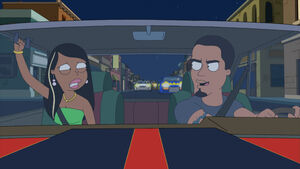 Diego is Roberta's boyfriend after she dumps Federline Jones for not getting a tattoo for her in "How Do You Solve a Problem Like Roberta?".
Donna forbids Roberta to see Diego when she finds out he is 24 and has children. After Roberta's continued defiance of Donna, Donna leaves Cleveland in charge. Roberta sneaks off with Diego and realizes how right Donna is about him when she finds herself involved a street race. Frightened by Diego's dangerous driving, she demands he let her out, but he refuses. She is later rescued by Cleveland and Federline when they roll Raymond's car, ejecting him into Diego's path and destroying his car when he crashes into his bulky body. He is sent back to Mexico by being fired out of a cannon.
Diego is voiced by Wilmer Valderrama.
Community content is available under
CC-BY-SA
unless otherwise noted.