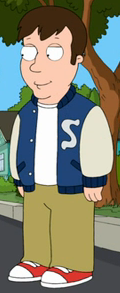 Derek is one of Oliver Wilkerson's friends that picks on Cleveland Brown Jr. during his first day of school at Stoolbend High School in "Da Doggone Daddy-Daughter Dinner Dance". He attempts to join Laine and Reggie in making fun of him for kissing his dad goodbye, but goes much too far and makes the situation uncomfortable for everyone present.
Derek was the one who originally nominated Cleveland Jr. for student-council president as a joke in "Ladies' Night".
Donna saves Derek in the school cafeteria by doing an emergency tracheotomy in "The Brown Knight".
Derek is voiced by Jonathan Goldblatt and Julius Sharpe.
Appearances