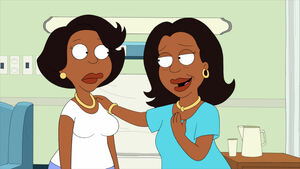 Not to be confused with DeeDee, one of the mothers from Rallo's preschool.
Dorothy "Dee Dee" Tubbs is Donna Tubbs-Brown's real mother who abandoned her as a baby.
Donna mentions that she never got her mother's approval in "BFFs".
Donna curses her mother at first when Cleveland and Rallo's ventriloquist act becomes a hit in "Brown Magic". She quickly breaks down in tears noting that she really misses her mother. After Cleveland and Rallo are arrested for fraud, the end titles note that she had still not heard from her mother.
In "Mama Drama", after Cleveland hires an actress named Shirley to play Dee Dee so that Donna can make amends with her mother, the actress drops over dead. A frustrated Dee Dee shows up as the death certificate has caused her all sorts of problems with her mortgage and health club membership.
Cleveland wants to introduce her to Donna but Dee Dee insists that all she wants is to get her life straightened out and explains that she has too many regrets. Cleveland offers to show her to Donna without anyone catching on and Dee Dee agrees. Cleveland sets up an accident and Donna is introduced to her mother as an innocent victim.
As they talk, Dee Dee tells of how she once had a successful music career in Germany but after giving birth couldn't give it up, so she gave her baby to her brother Kevin. Cleveland arrives and tells of how the stranger is really Dee Dee and Donna hits him, but she still makes up with her mother. She is still confused, however, over being raised by Auntie Momma instead of her uncle Kevin. Kevin then shows up, dressed as "Auntie Momma", and Dee Dee realizes the first time her brother is a cross-dresser. She is noticeably shocked.
Dee Dee attends Donna & Cleveland's vow renewal in "Here Comes the Bribe".
While Dee Dee visits in "A Rodent Like This", she finds the Brown's house has a rat infestation and invites everyone to stay with her while Cleveland is left behind to deal with the problem.
When Dee Dee visits with Donna in "Mr. and Mrs. Brown", Donna presses her for the identity of her father. Unfortunately, even Dee Dee isn't sure. Together, she and Donna also make jokes about Cleveland and his mother, Evelyn Brown.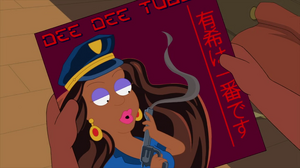 Donna's ex-husband Robert Tubbs hooks up with Dee Dee in "Wheel! Of! Family!", having fallen for her after hearing her on a Japanese import record at age 10. Together, they adopt a Chinese boy named Quang Quang in an attempt to become parents. Although Donna disapproves at first, she sees how hard they work to try to be good parents and gives them a chance, as they rename their child "Hong Kong Phooey".
On Family Guy, Cleveland reveals that Dee Dee shot and killed herself in "Candy Quahog Marshmallow!", noting that the funeral went well.
Dee Dee is voiced by Phylicia Rashād.
Community content is available under
CC-BY-SA
unless otherwise noted.