Das Shrimp Boot
Cleveland relies on energy supplements to keep himself awake in order to work overtime.

Season: 3 Episode: 13
Total Episode Count: 56
Prod. no.: 3APS15
First Aired: March 11, 2012

Guest Starring: Mike Judge, Seth Green
Featuring: Cleveland
Also Appearing: Donna, Cleveland Jr., Roberta, Rallo, Lester, Holt, Tim, Robert Tubbs, Mr. Waterman, Terry, Dr. Fist, Arianna, Freight Train, Cookie, Shavonne, Kendra, Debbie, Hank Hill, Shrimpy Dave, Commodores, Frank
Musical Numbers: I've Been Hookin' Up Some Cable, Three Times a Lady, Brick House

Director: Oreste Canestrelli

Assistant Director
:
Bryan Francis
Writers
:
John Viener
Storyboarders
:
Young Jeon Chan
,
Eric Sanford
,
Achiu So
Plot
: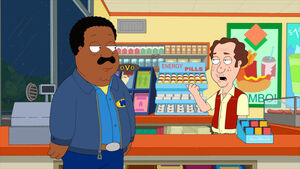 Cleveland gets tickets for the family's all-you-can-eat shrimp cruise but finds out he can't take time off from work. Terry suggests he work all of his hours straight to finish up his time in advance. As the hours begin to take their toll, Cleveland gets desperate. Stopping at the Growl N' Go convenience store, Cleveland discovers energy supplements. As the supplements take hold, Cleveland tries to keep using them thinking they can help him advance more time but is cut off at the store. Desperate, Cleveland breaks into the store and steals a supply of the supplements.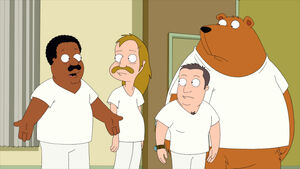 Cleveland awakes to find himself tied to his bed and forced into an intervention. The family decides to put him into rehab but the families all decide to send the guys into rehab with him. As Cleveland mopes about missing the cruise, his family also tries to stay near him but decide to go anyways. Cleveland hatches his own plot to escape, but misses the boat. Taking a nearby jet ski, Cleveland falls off into the ocean. When he awakes, he finds himself held hostage by pirates. They put him to work but when they pass in the vicinity of the cruise ship, threatening the safety of those aboard the ship he has to escape to save his own family. Cleveland leaps overboard and is reeled in by Junior fishing as he had gotten tired of the shrimp. As Cleveland tries to spread the word, no one listens and the pirates board the ship. After extracting a favor from Donna, Cleveland tries to save the ship but fails. Seeking shelter with Junior, he decides to take his energy supplements and defeats the pirates. Still hopped up on energy supplements, Cleveland jumps off the ship and swims into the sunset, finishing the episode with the shakes and advice about addiction.

Community content is available under
CC-BY-SA
unless otherwise noted.