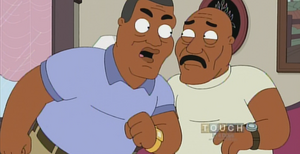 Cannonball Williams is Freight Train's rival, a former NFL Hall-of-Famer and rotisserie-chicken franchise mogul.
After Freight train and the Browns lost a television contest when Cleveland was a child, he blamed a streak of bad luck that followed him on Cleveland, including missing out on a chance to play professional football with the Washington Redskins. When Freight Train abandons Cleveland for Junior in "March Dadness", Cleveland picks Cannonball to be his new father figure, insisting on playing childish games and entering a two-man golf tournament against Junior and Freight Train.
Cannonball attends Freight Train and Cookie's anniversary party in "When a Man (or a Freight Train) Loves His Cookie".
Community content is available under
CC-BY-SA
unless otherwise noted.