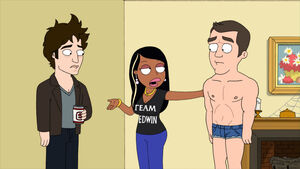 Caleb is a young man that Roberta mistakes for a werewolf in "Nightmare on Grace Street". When she throws herself off a cliff into a lake believing that Edwin Mullins' vampire senses will save her. Caleb rescues her while swimming in the moonlight and she takes him for a werewolf after he carries her to shore.
Later at a Halloween party, while trying to decide if either Caleb or Edwin should become her lover, she has them go into a room to fight it out over her. Nervous about what is going on, Roberta has her friend Anna look in on them and finds out that the two of them are having sex together.
Caleb is voiced by Will Forte.
Community content is available under
CC-BY-SA
unless otherwise noted.