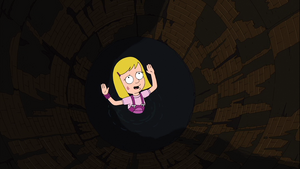 Brandi is a little girl that falls down a well in "Harder, Better, Faster, Browner", giving Kenny West and Cleveland Brown a chance to put on a benefit concert of their new rap song which becomes a hit because of the exposure. Barack Obama would later claim to have rescued a girl from a well in the episode. Brandi's singing line was voiced by Keke Palmer.
Previously, Brandi had cameos in "Ladies' Night" when Cleveland Brown Jr. runs for class president, as part of the math club in "Field of Streams" and when Donna slides by to save Derek in "The Brown Knight".
Brandi also has a cameo during the announcement of the winner of the class president at Stoolbend High School in "'Til Deaf", during the tryouts for the marching band in "Menace II Secret Society" as a flute player and in the school diving competition in "The Hangover Part Tubbs".
Community content is available under
CC-BY-SA
unless otherwise noted.