Birth of a Salesman
Cleveland works hard for the money.

Season: 1 Episode: 4
Total Episode Count: 4
Prod. no.: 1APS03
First Aired: October 18, 2009

Guest Starring: André Sogliuzzo
Featuring: Cleveland Brown, Tim, Terry Kimple, Rallo, Roberta, Cleveland Brown Jr.
Also Appearing: Donna, Holt, Lester, Mr. Waterman, Arianna, Arch, Florence, Keith Lieb, Ike Turner, Mae West, Robert Redford
Musical Numbers: Mini Mall Rap

Director: Anthony Lioi, Chris Graham

Assistant Director
:
Jae Kim
Writers
:
Kirker Butler
Storyboarders
:
Dominic Polcino
,
Lenord Robinson
Plot
: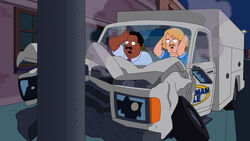 Cleveland looks for a job, first trying to be a grizzled police officer two days from retirement and also as a singing salesman at the Stoolbend Flea Market. Tim helps him get a job at Waterman Cable as a phone solicitor. Cleveland runs into an old high-school friend, Terry Kimple who is working as a cable installer for Waterman. When they were in school, Terry took the rap when they were busted for drugs. When Cleveland excels as a salesman, causing business to dry up for Tim, Tim prays for bad things to happen to Cleveland. After a night of drinking at The Broken Stool to celebrate Cleveland's success, Cleveland and Terry are involved in an accident. Fearful of losing his job due to previous drunk driving incidents, Cleveland takes the heat for Terry even though it could mean the end of his job. Donna picks Cleveland up at the Stoolbend Police Station and the thought of Cleveland going to prison excites her sexually. Tim is upset because he feels his prayer caused all of the trouble. Mr. Waterman almost decides to let Cleveland go but after Cleveland discovers he has a close attraction to Terry, manages to turn it to his advantage to become a cable installer with Terry leaving Tim again as one of the top salesmen.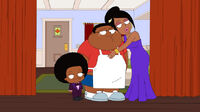 Meanwhile, Rallo and Roberta are disturbed by Cleveland Jr.'s constant cleaning making them look bad. They attempt to mess his things up, only to find out that it's nothing more than a attempt to cover his feelings over his family's divorce by distracting himself to keep from crying, much to their shock. Feeling sorry, Rallo and Roberta hold a Celebrity Roast to make Junior cry to let his feelings out. They promised him that they will try to get him better and live with it.

Community content is available under
CC-BY-SA
unless otherwise noted.