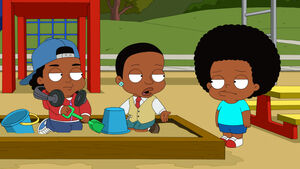 Bernard Bernard is one of Rallo's friends who tends to hang out with Theodore. Bernard wears a tan vest and is voiced by Will.i.am.
He appeared in "Murray Christmas" singing at the Stoolbend Rest Home.
In "A Short Story and a Tall Tale". Bernard and Theodore find a breast augmentation pamphlet and talk Rallo into blowing off his impending marriage to Trish Barty to make a ramp to push toys cars on it.
When Rallo informed Bernard and Theodore that he was marrying a white woman, he proclaimed "all right!", which, when coupled with his outfit, would seem to suggest that he is more "upper-crust".
He appears at Walt's Halloween party in "Nightmare on Grace Street".
Bernard asks Rallo to take his pet frog Mr. Ribbit with him to Krazy Kingdom in "Flush of Genius" to ride the Eliminator roller coaster to see of his eyes bug out from the altitude of the ride. When Rallo takes him to the park stowed in his Afro, he nearly gets to ride as the attendant pushes the measuring stick down into the hair but still comes up as tall enough until Mr. Ribbit hops out, leaving Rallo a few inches short.
Rallo enlists the boys help to trash his mother's idea of a Thanksgiving Day parade float in "Turkey Pot Die".
Appearances