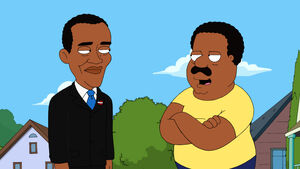 Barack Hussein Obama II (born August 4, 1961) was the 44th President of the United States. He is the first African American to hold the office.
Obama served three terms in the Illinois Senate from 1997 to 2004. In the 2008 general election, he defeated Republican nominee John McCain and was inaugurated as president on January 20, 2009.
As president, Obama signed economic stimulus legislation in the form of the American Recovery and Reinvestment Act in February 2009. On October 8, 2009, Obama was named the 2009 Nobel Peace Prize laureate. In March 2010, Obama signed the Patient Protection and Affordable Care Act into law, the first comprehensive health care reform legislation in decades. Obama was reelected to a second term as President in November 2012, defeating Republican Mitt Romney.
In the Pilot, Tim, Lester, and Holt decide that since America has a black president, they can have a black friend.
Rallo dressed up as Obama for "Black History Month", and was surprised to learn that he was the first black president.
Cleveland Jr. has a picture of Obama hanging on a wall in his bedroom and gets Evelyn Brown a painting of Jesus playing basketball with Barack Obama in "You're the Best Man, Cleveland Brown".
In "Harder, Better, Faster, Browner", Cleveland and Donna realize that Cleveland went to basketball camp with Barack when he was younger. This leads to Cleveland experiencing a mid-life crisis and eventually badmouthing Obama on television. In response, Obama took a short trip to Stoolbend to play Cleveland in one last game of basketball, which he won handily.
When Holt nominates Cleveland to be their boat captain in "Ship'rect", Lester sulks that he couldn't vote for a black man in 2008 either.
When the family dress up for trick-or-treat in "Nightmare on Grace Street", Donna is dressed as Michelle Obama, wife of President Barack Obama.
Lester blames Obama for his job of delivering fake ostriches in "Menace II Secret Society".
Dudley admires Rallo's new hair growth after his afro was shaved in "Of Lice and Men", claiming he's "rockin' the Barack" as the style looks like that of Barack Obama's.
Barack is voiced by Kevin Michael Richardson.
Community content is available under
CC-BY-SA
unless otherwise noted.