Another Bad Thanksgiving
Donna's sister Janet and her unruly children come to town to celebrate Thanksgiving with the Browns.

Season: 2 Episode: 7
Total Episode Count: 28
Prod. no.: 2APS08
First Aired: November 28, 2010

Guest Starring: Niecy Nash
Featuring: Cleveland Brown, Janet, Holt
Also Appearing: Donna, Rallo, Roberta, Cleveland Brown Jr., Lester, Tim, Robert Tubbs, Brian & DeBrian, Geraldine/Luke Wilson, Freddy, Freddy "Rerun" Stubbs, Roger "Raj" Thomas, Jon Gosselin, Bill Maher, Carrot Top
Musical Numbers: Thanksgiving Drummer Boy

Director: Mike L. Mayfield
Assistant Director: Seung-Woo Cha
Writers: Clarence Livingston
Storyboarders: Paul Lee, Jae Woo Kim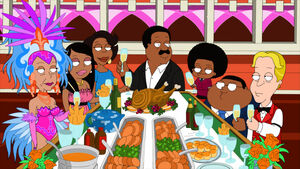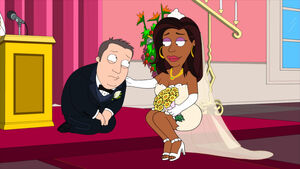 Plot
: Donna's show-off and bossy sister, Janet, and her unruly children come to town to celebrate Thanksgiving with the Browns. Cleveland, still bruised by their past, wants nothing to do with her this Thanksgiving and attempts to drive her out. However, his plan backfires when Janet and Holt fall in love after a night of sex and they run off to
Las Vegas
to get married. When Donna finds out she has left them with her boys, Donna insists they go to Vegas where she confronts Janet and tells her that Holt's feelings are real and not to be thrown away on one of her whims. During their vows, she realizes exactly what Donna had been trying to tell her and calls off the wedding, telling Holt she'll still come around for sex once in awhile.
While in Vegas, Rallo and Cleveland Jr. stumble upon a winning slot machine and find a woman of age to cash it in for them in exchange for an "escort" around town and to dinner.

Community content is available under
CC-BY-SA
unless otherwise noted.